"50 Most Usable RIAs" on InsideRIA.com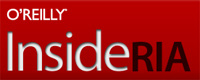 Theresa just posted our article 50 Most Usable RIAs on O'Reilly's InsideRIA blog. The article provides fresh, new examples of the six principles outlined in our book Designing Web Interfaces.

As always feel free to use these examples in your own presentations or in communicating ideas in your organization.